Pure Pisco
El Solitario
It is a distillate of musts that have completed their fermentation process.
It is a high quality Quebranta Grape pure pisco.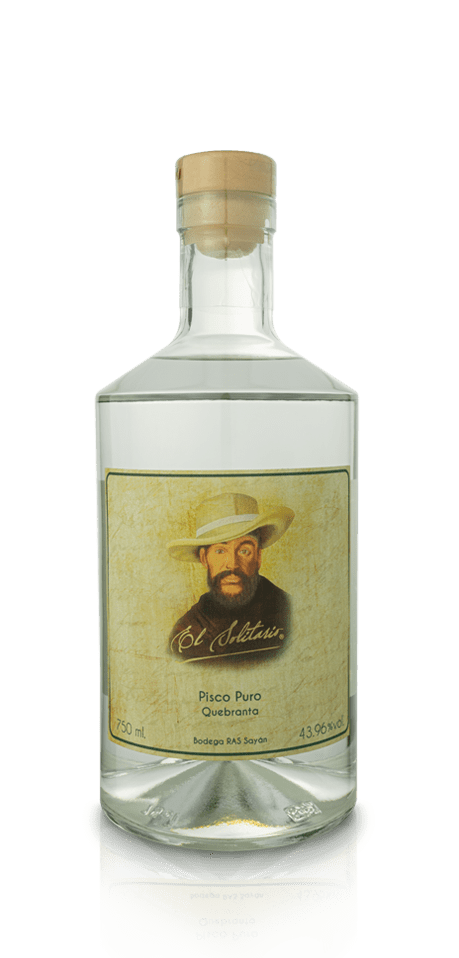 Description
Pisco El Solitario is found in a French bottle that has a solid and firm appearance, just like the hero's character. The product has been stored for eighteen months in a steel tank and more than four months in the bottle.
We recommended to drink it pure, in a Pisco Sour, in a refreshing Chilcano or in a Captain cocktail.
The brand is identified with an area located North of Lima and a notable neighbor from that place who was a leader in the independence of Peru, José Faustino Sánchez Carrión, nicknamed "El Solitario de Sayán". He opposed Spanish rule, Bolivar as a dictator and San Martin's proposal to have a European prince as governor of South America. He served as Bolivar's Minister of State. He defended Republican ideals and the independence of powers. He believed in the idea of uniting South America, made up of federated states, following the route outlined by the thirteen colonies. His relationship with the "Liberator" deteriorated and cost him his life, he died at the age of 38 due to poisoning.
Characteristics
View:
Clean, transparent and crystalline.
Odor:
Clean, elegant and balanced.
El alcohol se expresa amigable seguido de notas frutales que nos recuerda al níspero, el membrillo y la manzana roja.
Taste:
Elegant, frank, balanced, dry, unctuous, complex with a good finishing taste. The alcohol has a friendly taste and confirms the aroma, the fruity notes are the protagonists with a slightly bitter finishing taste that reminds us of citrus skin. After each sip, the aftertaste is strong enough not to forget its flavor.
| | |
| --- | --- |
| | 750 ml |
| | |
| --- | --- |
| | 18ºC |
| | |
| --- | --- |
| | 43.96% |
| | |
| --- | --- |
| | Hammered copper alembic and wine warmer |
The storage of the pisco in stainless steel lasted 18 months and in April 2020 the product was packed in a strong and solid French bottle, two qualities that also described the character that names it. Pisco El Solitario rests for six months in the bottle.